The Open Cart is something that not just all e-commerce websites are familiar with and need dearly but all online shoppers too. After all, isn't this the cute little shopping cart in which you put your chosen products to buy into? Then comes the payment gateway and the final delivery of the ordered products at your doorstep. Life when it comes to online shopping is indeed a breeze, isn't it? The software or framework that makes the Open Cart system work in a silken smooth manner is open cart web development. Webdior offers a very simple and at the same time effective Open Cart solution that is being lapped up in double quick time by our esteemed customers.
The chief factor with making a success out of the open cart system is the incorporation of numerous features all of which are vital to a greater or lesser extent within it. And this is exactly what we have accomplished with our framework for the open cart.
Opencart is rich with functionality and features providing a satisfying shopping experience to end users. Written in PHP, Opencart is based on MVC Framework and uses MySQL as a database management system.
Several Payment Gateway Options
Shipping Methods and Tracking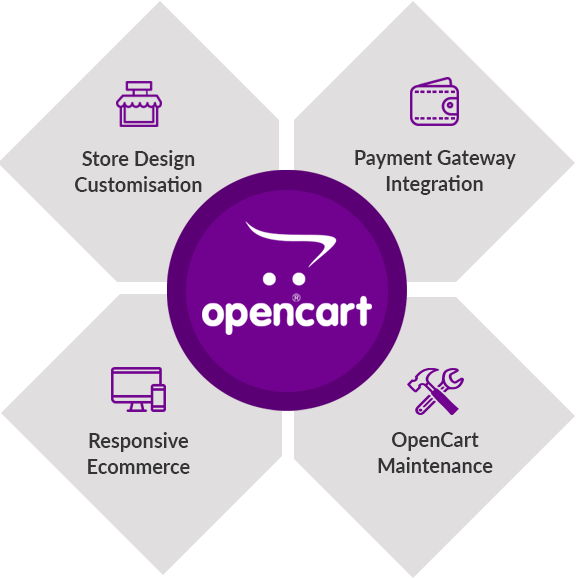 Inbuilt Google Analytics Module
OUR OPEN CART FRAMEWORK EXTENDS
NUMEROUS FEATURES
The following feature are extended by the open cart web development application that we offer to the valued customers –
Provision of multiple payment gateways.

Making available more than one shipping methodology for product delivery to the customers.

Provision of platform to support dialects and currency conversions.

Obtain user feedback, queries, product reviews, and ratings for all the listed products in real-time.

Accommodation of infinite categories of products and services easily and effectively.
Ability to bring infinite number of manufacturers under one space.

Multi language, multi currency options.

Automatic image resizing and image zoom options.

Unlimited tax options.

SEO and SEO friendliness.

Discount coupon options.

Unlimited information pages.
Our Open Cart solutions are designed to provide utmost ease and convenience to the customers when they shop through your website, while allowing you to manage your inventory and supply chain with equal ease

.